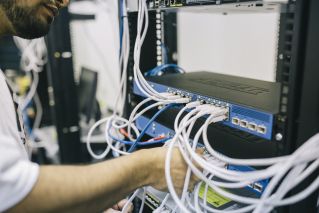 Cloud Backup
Having your data in the cloud creates a seamless, automatic, secure and continuous next-generation backup. Protecting your data in the cloud, provides the best options in data storage and redundancy. Having natural disasters and physical onsite damage or even security issues are illuminated by having a secure, accessible and easily manageable cloud storage offsite.
Business critical files are protected automatically in the cloud and can be restored easily by our IT administrators. Relying on incomplete or tape based backups expose businesses to lost data, data corruption, lost company productivity, and lost business. Many small and medium-sized businesses are not equipped due to cost and complexity of local solutions, basically incomplete data protection plans.
Backing up in the cloud solves the problem with a next-generation solution that allows users to back up data directly to the cloud. We ensure fast backups and automatically transmitting your data to the cloud at convenient times, that won't impact your network. When employees are traveling, or after hours.
Multi-Platform: Protects a broad range of operating systems, platforms, applications and databases in both virtual and physical environments.
MS Exchange support: Included agent software backs up Microsoft Exchange Server 2003, 2007 and 2010.
MS SQL Server Support: Included agent software backs up Microsoft SQL Server 2005 and 2008 with database-level recovery.